About The Green Mist Cottage
The Green Mist Cottage, amazingly affordable Service Villa with a comfort of a Home Stay!.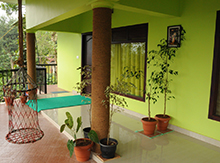 Experience a breath taking view of Chembra Peak and its surrounding Valley with a stay at The Green Mist Cottage.
We consider it is an honor and privilege to serve our guests who have made our service villa, The Green Mist Cottage, their choice for a Wayanad tour and stay. We welcome you with open arms and heart to give you an unforgettable and unique experience of our hospitality and warmth. Regardless the nature of your trip, we will help you realize it with the best of our facilities and services. The Green Mist Cottage is one of the most affordable Service Villas in Wayanad though we do not compromise on quality of the services and amenities.
The Green Mist Cottage is located in Vythiri, Wayanad, which is surrounded by the breath taking natural beauty and various eminent tourist spots and attractions at a short distance. Green Mist gives you an amazing view of Chembra Peak (highest peak in Wayanad) and its surrounding valley which no other can offer.
Hygiene is very important to us as much as it is for you and you will find our rooms with clean attached modern bathrooms. Laundry service, linen change daily, hot water for 24 hours, TV with cable, a dining hall is some of the amenities we offer. Car parking is available though we do have pick and drop service.
Authentic Kerala cuisine is our speciality and we cook the most delicious traditional meals available anywhere. If hot and spicy food is not up for you, we can provide the food of your choice with advance notice. We are committed to give you a homely atmosphere, though leaving you with your own world experience.
For our respected guests we provide travel assistance which is safe, secure, affordable and comfortable to enjoy the nature's abundance. Guests can travel to the nearby tourist spots and experience trekking, wild life safari, visit to spices plantations etc to name a few, with an experienced and English speaking guide upon request. We assure you to make your entire stay and unforgettable and rejuvenating altogether.
Wayanad - The green paradise of Kerala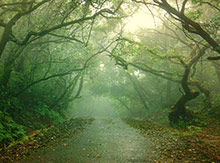 Wayanad is considered to be the green paradise of Kerala, which is found snuggled among the mountains of the Western Ghats. It is located on the Southern top of the Deccan plateau and just 76 km away from Kozhikode. This land is filled with history and enriched culture. Even though it is quite a small place, Wayanad boasts of lush plantations, stretches of greenery and the mist filled mountains. You can say that nature is found at her very best here. There are many exciting tourist spots in this small hilly area.